AIS upgrade with hardware and new software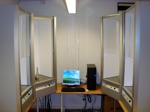 A full upgrade of existing AIS cabinets with the latest hardware and software.

Some of the advantages of the upgrade.
The new system is made "future proof" in order to meet the challenges of the rapid development within the IT sector.
The new system enables remote support by Valendor's technicians.
The new system has an auto-tare function for pressure that will ensure the Accuracy of pressure measurement in each individual tests.
Each chamber in the new system is equipped with sensors for temperature and atmospheric pressure to ensure accuracy over changing environmental conditions and in laboratories located at higher altitudes.
Testing data is saved in real time thus reducing data loss if equipment is switched off or if there is power cut during testing.
As the new system can be run on any modern computer the downtime in case of a computer crash will be minimized.
Aborted samples are not counted as tested, but registered as aborted in the data file, as stated in ISO standard.
Users of the previous systems, who wish to upgrade, will still be able to use the existing chambers by upgrading the software and installing the new hardware needed.