Electric Hole Tester (EHT)
VALENDOR'S Electric Hole Tester (EHT) fully complies with current specifications in relevant ISO standards and are well equipped for any future requirements. Some of the features of Valendors EHT are as follows:

Fixed filling volumes 100, 150, 200, 300 and 400ml for higher accuracy.
Innovative software that measures and records results throughout the test operation
Tip-challenger mode
Individual start sequence for maximum efficiency

In regards of Efficiency the EHT is unmatched, with an output of <4seconds/condom, a single operator can test a batch of 315 condoms in just 20 minutes. The tip-challenger mode adds up to making it the most reliable electric hole tester within the industry.
Water Leakage Tester (WLT)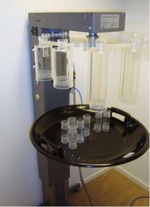 VALENDOR'S Water Leakage Tester (WLT) is a pneumatically operated tester with revolving plate and height adjustable stand for testing of male- and female condoms as well as gloves.

Filling volumes are adjustable in between 0 – 2000ml and the speed of the rotation of the plate can be adjusted to give the time for hanging as per the relevant ISO standards. The detachable, interchangeable product holders enable the switch between products in no time.