Foiling Machine for Condoms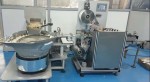 Foiling Machines

Valendor FMC-II Automatic 3-Lane Foiling System for condoms.
Our 3-laned high speed (210 condoms/min) foiling machines for square and rectangular packaging formats are here to improve the Efficiency and Quality of your production.

Valendor's FMC-II will run with minimal human input and increase productivity as well as cut costs. The foiling process is designed to work with a variety of sizes. We customize the specifications according to your product needs.

FMC-II can be directly connected with our secondary packing line CSO-3 for packing of 3 condoms in a box. All the machines in the line have an output of 210 condoms or 70 boxes per minute, resulting in a seamless, highly automated solution for packing of condoms with high production speed, costs saving and Quality.

Please contact us for further information about how we can help you to improve the Efficiency and cut costs in your factory.